WMA Indoor Championships with 15 Medals on Day One
A World Record in the W45 high jump by Alison Wood (W45, Aumsville, OR) highlighted a very good first day of competition for Team USATF Masters Toruń on Sunday in Torun, Poland. Wood, who first set the record in February at 1.66m cleared the new record of 1.67m on her first attempt. Americans picked up two other golds Sunday in the high jump. Masters Hall of Famer Flo Meiler (W84, Shelburne, VT) jumped 0.98m, and James Sauers (M70, Dacula, GA) cleared 1.50m to win his age group. In the long jump Team USATF garnered two more golds from Lee Adkins (M46, Millbrae, CA), who captured the M45 age group with a leap of 6.57m and Antonio Palacios (M52, Bloomington, IN), whose jump of 6.23m in round 2 help up to win the M50 age group.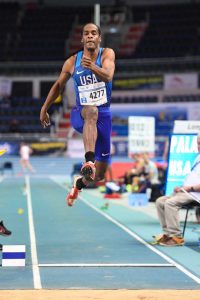 Palacios is the current world record holder in the M45 category, a record that has held up since 2012.
American silver medalists on Sunday included new American Neringa Jakstiene (W55, Memphis, TN) in the high jump with a leap of 1.48m. In addition, Hall of Famers Gary Patton (M73, Rock Rapids, IA) in the 3000m with a time of 11:30.11 and William Jankovich (M85, Racine, WI) in the high jump at 1.02m. Also earning silver today in the weight throw, Robert Cahners (M76, Naples, FL) with a throw of 15.85m to narrowly top fellow American Hall of Famer George Mathews (M75, Edmonds, WA) who took bronze at 15.83. Other American bronze medalists were Emil Pawlik (M80, Jackson, MS) with a jump of 1.17m in the high jump, first-timer at worlds Barbara Warren W70, Charleston, WV), clearing the bar at 1.06m, also in the high jump, Jose Cesteros (M86) in the weight throw with a toss of 8.08m. Stefan Petersson (M50, Frisco, TX) earned bronze in the javelin throwing 58.56m, and Lynn Cooke (W60, Odessa, FL) took third in the 3000m in a time of 12:08.30.
In addition to the medal events, the day wrapped up with the first round of the 400m in which many Team USATF entrants moved on to Monday's semi-finals.
At the end of day one, Team USATF Torun stands in third position on the medal table with 15 total medals (5 gold, 4 silver, 6 bronze), behind leader Germany (30 medals) and second place Poland (21 medals). Great Britain and Spain trail the Team USATF with 14 and 13 medals respectively.
Compiled by:
Sandy Triolo, MTF Communications Subcommittee Chair (mtfcommchair@gmail.com)
Jerry Bookin-Weiner, MTF Vice Chair (mtfvicechair@gmail.com)