Black Masters Track & Field Athletes Share Their Encounters with Racism in America

An Introduction by Jerry Bookin-Weiner, USATF Masters Track & Field Committee Interim Chair
Our country continues to grapple with racism, both overt and systemic, and this important national conversation continues. This is our second gathering of Masters Athletes modeled on the
Sports Illustrated
conversation with a group of elite track & field athletes who together to discuss their experiences with racism in America.
Beginning on Juneteenth, MTF started a series of similar discussions among Black MTF athletes.  Robert Thomas, Jr. (MTF Vice-Chair) hosted the discussions, centered on the same three questions posed by Sports Illustrated:
What was your first or most impactful experience with racism that has shaped you into the person you are today?
To you, what does it mean to be Black in America?
What are you doing and what do you hope other people can do to enact or encourage change in society?
Below there are some resources for further exploration.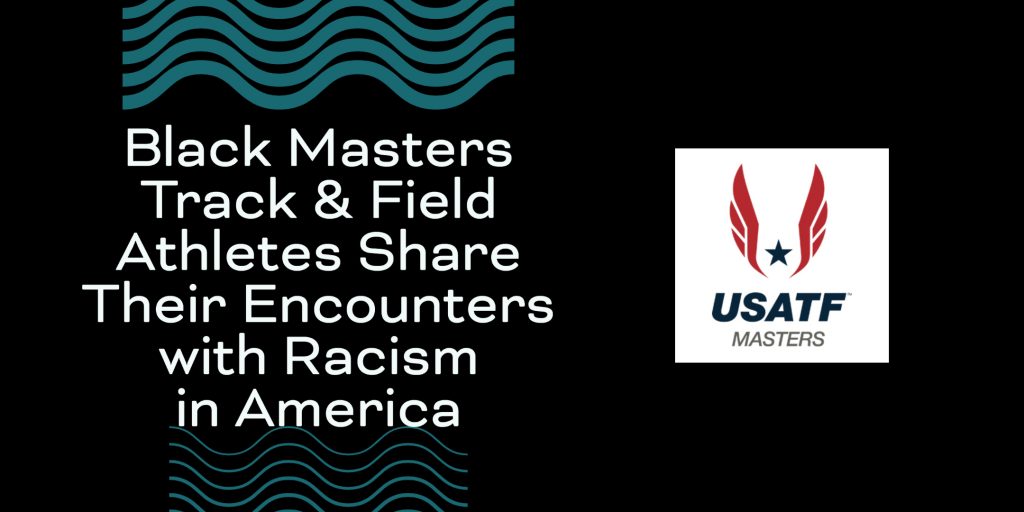 Participants in the Discussions
Donna Barrett (W63) is a thrower, master level official, and event organizer.  She has won multiple national championship medals in the throws and organizes an annual series of indoor throws competitions in the greater Washington, DC area.  Donna is a graduate of Howard University.  She lives in Upper Marlboro, Maryland, where she is a customer service manager for the indoor facility at the Prince George's Sports and Learning Center and coaches at a local high school.
Damon Blakemore (M58) is a hurdler and combined event athlete who has won 13 WMA medals and has set three American records in the pentathlon.  Damon is a graduate of Oakland University in his native Michigan.  He currently lives in Houston, Texas, where he is the regional manager of pre-owned sales for Mercedes-Benz USA.
LaTrica Dendy (W47) runs the 200m, 400m, and 400m hurdles. She is WMA champion in the 400m and 400m hurdles; American record holder in the 400m and 400m hurdles, and many time national champion indoors and outdoors in the 200m, 400m, and 400m hurdles.  LaTrica is a graduate of the University of Nevada, Las Vegas.  She lives in the Bronx, New York, where she is an eighth grad math teacher and a middle school math leader.
Perry Jenkins (M67) is a coach, master level official and starter, and a technical official.  Perry has been head coach at Erie Community College and the State University of New York at Buffalo in addition to teaching at both institutions.  He lives in Buffalo, New York.
Mark Williams (M47) is a middle distance runner who has been part of world record relay teams and won multiple WMA medals and national championships.  Mark is a graduate of Rutgers University who lives in Columbia, New Jersey, where he is a network implementation project manager for Verizon.
Resources for Further Exploration
For those who want to delve further into these issues here are some recommendations.  There are many, many additional resources for those seeking more information about the Black experience in America, slavery, racism, and anti-racism.  This list is far from exhaustive:
Feature Films/Documentaries:
13th (2016, streaming on Netflix) – a documentary exploring the "intersection of race, justice, and mass incarceration in the United States;" it is titled after the Thirteenth Amendment to the United States Constitution, adopted in 1865, which abolished slavery throughout the United States and ended involuntary servitude except as a punishment for conviction of a crime.
Selma (2014, currently available on Amazon Prime Video) – historical drama film based on the 1965 Selma to Montgomery voting rights marches initiated and directed by James Bevel and led by Martin Luther King Jr., Hosea Williams, and John Lewis.
When They See Us (2019, Netflix) – the story of the Central Park 5
Just Mercy (2019, currently available on Amazon Prime Video) – tells the true story of Walter McMillian, who, with the help of young defense attorney Bryan Stevenson, appeals his murder conviction. The film is based on the memoir of the same name, written by Stevenson.
I Am Not Your Negro (2016, currently available on Amazon Prime Video) – documentary film directed by Raoul Peck, based on James Baldwin's unfinished manuscript Remember This House.
TV Programs
CBS 60 Minutes segment on the Greenwood Massacre in Tulsa, Oklahoma, produced by Nicole Young (sister of Mark Williams, Masters 800m/1500m runner); the segment ran in June 2020
https://www.youtube.com/watch?v=yA8t8PW-OkA
CBS 60 Minutes Overtime additional material on the Greenwood Massacre:
https://www.cbsnews.com/news/how-tulsa-greenwood-massacre-echoes-today-60-minutes-2020-06-14/
Articles
The 1619 Project
The 1619 Project is an ongoing initiative from The New York Times Magazine that began in August 2019, the 400th anniversary of the beginning of American slavery. It aims to reframe the country's history by placing the consequences of slavery and the contributions of black Americans at the very center of our national narrative.  Here is a link to the series: https://www.nytimes.com/interactive/2019/08/14/magazine/1619-america-slavery.html
How Did We Get Here?
163 years of The Atlantic's writing on race and racism in America.  Includes links to articles from one of the nation's leading intellectual publications:  https://www.theatlantic.com/education/archive/2020/06/atlantic-reader-race-and-racism-us/613057/
What is White Privilege, Really?
An exploration of what is meant by the term "white privilege" and what it means:  https://www.tolerance.org/magazine/fall-2018/what-is-white-privilege-really
White Fragility: Why It's So Hard to Talk to White People About Racism
Dr. Robin DiAngelo explains why white people implode when talking about race. https://goodmenproject.com/featured-content/white-fragility-why-its-so-hard-to-talk-to-white-people-about-racism-twlm/
Resources for White People to Learn and Talk About Race and Racism
A listing of resources compiled by Nicole Carpenter in 2018:  https://blog.fracturedatlas.org/resources-for-white-people-to-learn-and-talk-about-race-and-racism-5b207fff4fc7
The Costs of Racism to White People,
An article by Paul Kivel:  http://paulkivel.com/wp-content/uploads/2015/07/thecostsofracism.pdf
For Our White Friends Desiring to Be Allies
An article by Courtney Ariel:  https://sojo.net/articles/our-white-friends-desiring-be-allies
From White Racist to White Anti-­‐Racist, the life-­‐long journey
An article by Tema Okun:  http://www.dismantlingracism.org/uploads/4/3/5/7/43579015/white_identity_ladder_2013.pdf
Books
Ibram X. Kendi, How to be an Anti-Racist (New York, 2019).  This book by National Book Award winner Kendi has been #1 on the New York Times best seller list for many months.
Robin DiAngelo, White Fragility: Why It's So Hard for White People to Talk About Racism (Boston, 2018).  Also a New York Times #1 best seller.
William Johnson, The Broken Heart of America (New York, 2020).  A blistering history of a city's rise and decline, The Broken Heart of America will forever change how we think about the United States. A searing portrait of the racial dynamics that lie inescapably at the heart of our nation, told through the turbulent history of the city of St. Louis.