USATF Masters Indoor Championships close with 15 World Records
LANDOVER, Maryland -- U.S. Masters competitors demonstrated athletic excellence and inspiring determination Sunday at Prince George's County Sports & Learning Center, as more national titles and records were clinched on the final day of USATF Masters Indoor Championships. A total of fourteen pending world age group records were set throughout the three-day meet.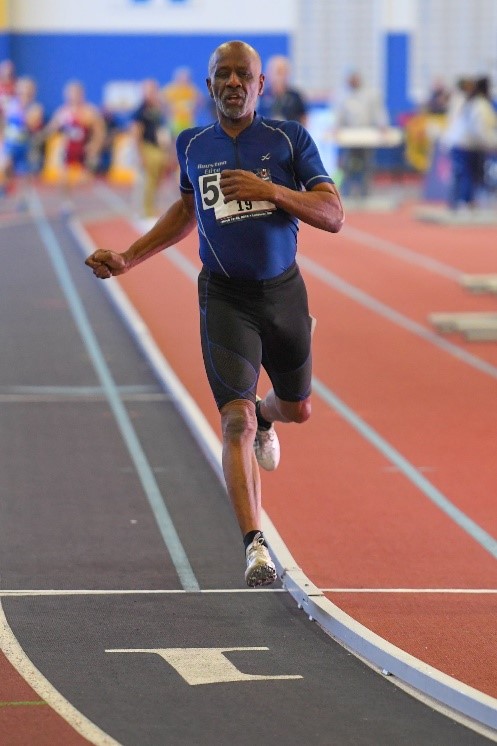 2013 World Masters Athlete of the Year Charles Allie (Pittsburgh, Pennsylvania) capped off an impressive weekend with a new American record in the M70 200m in 26.95. Allie began competition with an American record Friday in the 400m in 1:00.52, followed by the 60m title Saturday in 8.20.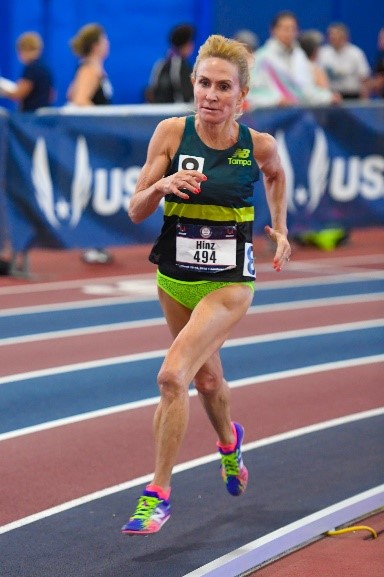 Lesley Hinz (Atlanta, Georgia)of New Balance Tampa Masters Racing solidified a new world record in the W60 800m, clocking in at 2:36.57 with a fastest 200m split of 38.85.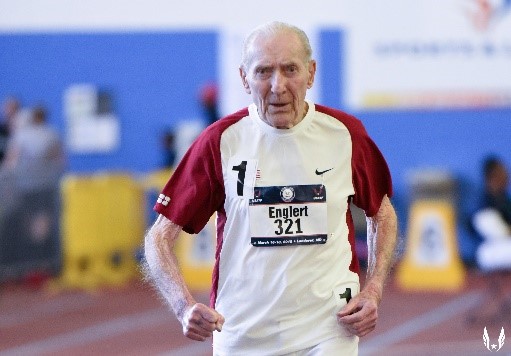 95-year-old Roy Englert (Springfield, Virginia) claimed another world record - his second of the weekend - this time in the M95 800m. Englert maintained a steady pace to win his age group in 6:03.84. Potomac Valley Track Club teammate Orville Rogers (Dallas, Texas) secured his fourth and fifth world records of 2018 Indoor Championships, completing the M100 800m in 9:56.44 and 200m in 1:40.94.
In field events, Antonio Palacios (Bloomington, Indiana) brought home the M50 triple jump gold in dominating fashion. Starting at 12.34m/40-6, his final attempt was just .02m off the American record at 13.24m/43-5.25.
Relays closed out the largest ever USATF Masters Indoor meet. The M80 non-club 4x400m relay team of LeVasseur, Cordero, Vergin, Rush and Askew lowered the American record by over one minute in 7:20.95.
Potomac Valley Track Club won the team standings with 976 points, followed by TNT International Racing Club (651) and Atlanta Track Club (592). Click here for all team standings.
USATF Masters Outdoor Championships will take place July 26-29 in Spokane, Washington.
Centenarians Reach New Heights on Day 2 of USATF Masters Indoor Championships

Centenarians proved reaching your athletic goals is possible at any age Saturday at the 2018 USATF Masters Indoor Championships, with four world records set by athletes 100 years or older, for a total of seven world records combined today.

All the way from Baton Rouge, Julia "Hurricane" Hawkins descended on USATF Masters Indoor Championships to attempt a historic feat. The 102-year-old who famously said "I missed my nap for this," at last year's Outdoor Championships, made her Indoors debut with lively fervor. Hawkins set a world record in the W100 60m in 24.79, overtaking contemporary Ida Keeling's February attempt in 58.34. Hawkins didn't stop at track events and took her talents to the indoor shot put, where she set another world record at 2.77m/9-1.25.

Orville Rogers (Dallas, Texas), who set an age group world record in the 400m yesterday, returned to the track Saturday eager to take on more. The long awaited rematch between Rogers and 93-year-old Dixon Hemphl (Fairfax, Virginia) resulted in a .12 time difference, this time with Hemphill taking the win. The 100-year-old carved another spot in history with his 60m time of 19.13. Edward Cox (Binghampton, New York) finished first in their combined age group race to take home the M90 national title in 11.73.

Orville continued to push his limits in the 1500m and set a world record in his M100 age group, clocking in at 20:00.91. His fellow 400m teammate Roy Englert (Springfield, Virginia) broke the previous M95 world record in 12:07.63. Hemphill went on to anchor the M80+ Potomac Valley Track Club 4x800m relay.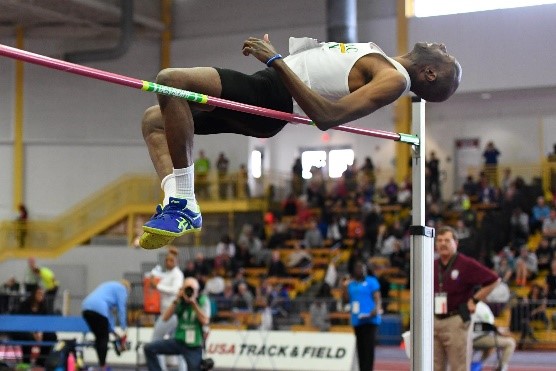 Earlier in the day, Bruce McBarnette (Sterling, Virginia) kicked off the morning with a stunning world record in the M60 high jump, 1.76m/5-9.25. This marked McBarnette's thirteenth world title.
Derek Pye (Lakewood, California) of Southwest Sprinters Track Club moved up an age group and set a new world record in the M50 60m hurdles in 8.24. He previously set a M45 record in 2016.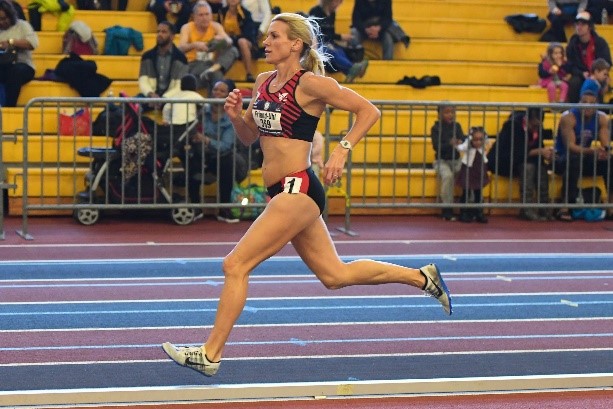 Sonja Friend-Uhl (Boca Raton, Florida), no stranger to setting new Masters standards, crushed the W45 1500m American record in 4:44 flat.

The women's 4x200m relay saw multiple American records broken: W40 Southwest Sprinters Track Club - A (1:53:00) and W50 Joy's Jackrabbits Track Club (2:00.22). On the men's side, M50 Southwest Sprinters Track Club - A dominated the field to win by 10 seconds (1:41.73).
USATF Masters Indoor Championships opened with two age group world records
LANDOVER, Maryland -- The largest USATF Masters Indoor Championships field in history kicked off Friday with multi-events, 400m, 1500m race walk and more at the Prince George's County Sports and Learning Center in Landover, Maryland. 1,219 entrants are taking to the indoor facility through Sunday.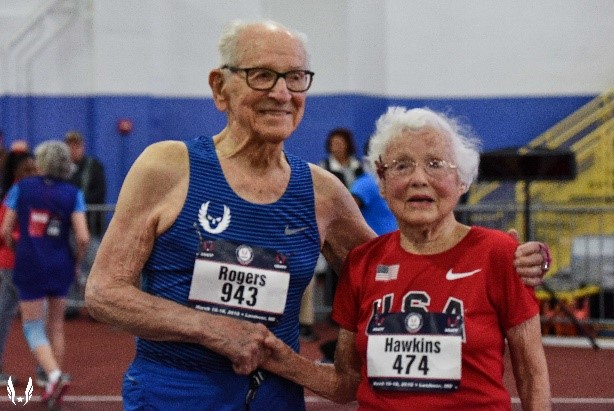 100-year-old Orville Rogers (Dallas, Texas) added another accolade to his collection with a pending world record in the men's 100+ indoor 400m in 4:16.90. Rogers, who was cheered on by a sea of family members wearing matching blue "Orville" t-shirts, competed alongside age group winners 95-year-old Roy Englert (Springfield, Virginia) and 93-year-old Dixon Hemphill (Fairfax, Virginia). All three Potomac Valley Track Club athletes will face off again Saturday in the men's 60m at 12:48 p.m. ET. At 12:15 p.m., Julia Hawkins, 102, will compete in the 60M for the W100 record as the oldest woman in the history of USATF Championships.
Roy Englert wasn't finished for the day and went on to set a pending world record in the M95 3000m in 26:01.24. Englert's time crushes the previous record by nearly four minutes.
Damon Blakemore Sr. (Houston, Texas) of Houston Elite won every event in the M55 pentathlon, earning the national title and setting a new American record with 4213 points.
On the women's 400m side, Emmanuelle Mcgowan (Sugar Hill, Georgia) overtook Sonja Friend-Uhl (Boca Raton, Florida) in the W45 400m in a tight battle for gold, clocking in at 1:02.37-1:02.81.
In the 1500m race walk, Maryanne Daniel (Clinton, Connecticut) of Connecticut Racewalkers dominated the women's field, winning not only the W55 title but also finishing fastest in the W30, 40, 45 and 50 age groups.
The distance events saw 1992 Olympic marathoner and 1991 World Championships bronze medalist Steve Spence (Shippensburg, Pennsylvania) take the M55 3000m gold in 9:53. Atlanta Track Club teammates battled fiercely at the finish in the M75-104 3000m, with Charlie Patterson (Buford, Georgia) holding on for the win over David Turner Sr. (Clarkesville, Georgia). Kara Parker (St. Paul, Minnesota) earned the national title in the W45 3000m with a nearly forty second lead over second place, 11:06.63-11:46.43.
Capping off Friday's field events, Rita Hanscom (San Diego, California) clinched the W60 pole vault competition at 2.15m/7-0.5.
Overall, the weekend was an amazing success, major thanks to the USATF Officials and the PG County Sports and Learning Complex and congratulations to the Potomac Valley Track Club for hosting this event!
Follow us on : https://www.facebook.com/usatfmasterstrack/