MTF Update #5
Jerry Bookin-Weiner – Interim Chair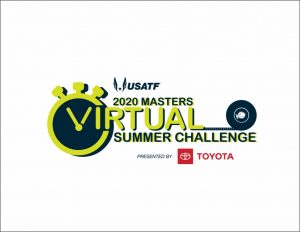 The Results Are In!!
The USATF 2020 Masters Virtual Summer Challenge presented by Toyota is in the books, and results are now available. They can be viewed in three places. The most user friendly version is on Masters Rankings. Other versions are on the meet website on usatf.org as an Excel spreadsheet, and on the athletic.net site.
A total of 520 athletes entered the Challenge, slightly under half the usual number who register for our outdoor championships. By comparison, the USATF Youth Virtual Challenge drew around 700 entries versus over 7000 for the Junior Olympics in a typical year.
In the process of managing this Virtual Challenge both we and our partners at athletic.net learned a lot about virtual meet works and the unique issues of a virtual meet for masters. That should stand us in good stead going forward.
What's next? There's a strong possibility of a Virtual Fall Challenge in October, so stay tuned.
Virtual Awards Ceremony October 17
Typically there is an Awards Dinner/Ceremony at the outdoor championships each summer. With the 2020 Outdoor Masters Championships cancelled in Greensboro in July, we missed out on having that event. To recognize our 2019 USATF Masters Award winners, we will be hosting a Virtual Awards Ceremony on Zoom on Saturday, October 17 at 4 pm (Eastern Time). 2019 Award winners will be presented with their plaques during the ceremony and receive them by mail shortly thereafter. In addition, members of the MTF Hall of Fame Class of 2019 will be recognized, though their formal induction into the HOF will take place next year at the 2021 Awards Dinner.
More information will be sent directly to the honorees in September. In addition, others who wish to attend will be welcome, though there will be a limit of 100 total attendees. Information about how to reserve a place will be available in September as well.