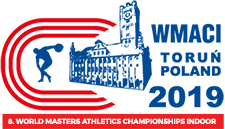 Competition Info
Everything you need to know about the 2019 Indoor WMA Championships in Poland: please click to open our "PDF" (you can also save it locally) containing all the current information we have assembled. There are some important links and additional information that will be updated once we get closer to the competition. WMA Championships are exciting and we wish you a great experience and success in your competitions!
Competitor's Handbook: You can see and / or download and print the Entry Booklet online and you will receive a Competitor's Handbook when you pick up your packet in Torun, Poland. Please read it and keep it with you; it contains vital information about the competition, i.e.: when and where you must declare your intention to compete in your events; when and where to check in; transportation information, final competition schedules, and sites; etc. Additional information is available at the meet website and in the entry booklet. Note: a government-issued document containing a picture, or a passport, will be required to pick up your registration packet.
Packing –

Put crucial items (competition shoes, uniform, prescriptions, glasses, etc.) in your carry-on, not checked baggage, which can get lost. Protect your gear at all times. USA equipment is very popular and subject to pilfering. Do not leave your warm-ups or bag sitting around like you would at a US meet. Your Passport must be kept secure at all times.

Arrival –

You need to arrive in Torun no later than the afternoon of the day before your first event to allow time to pick up your packet and declare (confirm) for your event. If you are delayed, please text Philip Greenwald (+1 917 349 8432), one of the Team USATF Team Managers, and he will make alternate arrangements with the meet organizers.

Uniforms – Both the red London Olympics and the blue Rio Olympics uniforms will be official. You will not be allowed to compete unless you wear these uniforms. The blue uniform must be worn for all finals. Either the red or the blue is permissible for prelims, etc. If you have any questions or issues, please contact team managers. Note that additional red uniforms can be purchased at the USATF Store online (those that are labeled London 2012) at usatf.org

. Blue uniforms cannot be bought.

Registered for Cross Country, Half Marathon or Road Race Walk events and unable to go or unable to run?

Please let Mary Rosado (the Team Manager for Non-Stadia Events) know at

mvrosadoesq@prodigy.net

– the team process for these events is unique and it is imperative that she knows who will and will not compete. There are team medals in these events and she must submit our team information by 5PM the day prior to the events.
Contact Info
Local Organizing Committee – Torun, Poland
Team Manager for Stadia Events
Philip Greenwald
greenwaldp@att.net
+1 917-349-8432
Team Manager for Non-Stadia Events
Mary Rosado
mvrosadoesq@prodigy.net
+1 917-400-3961
Active Athlete Rep
Latashia Key
mastersactiveathlete@gmail.com
Media Contact
Sandy Triolo
MTFCommchair@gmail.com