USCAA MARATHON, HALF and 5K
In conjunction with the renowned Eugene Marathon, Oregon
April 27-28, 2019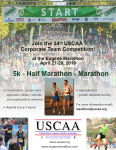 Organized by the United States Corporate Athletics Association (USCAA)
Contact marathon@uscaa.org
Corporate participants run these races as part of the overall event, but we pull out the corporate runners for our results.
Enter an unlimited number of runners.
Each event, Marathon, half marathon and 5K, are scored separately so that there are three USCAA championships.
Top four runners  in each event  comprise a team score for each event based on the World Masters Athletics (WMA) tables. These tables level the playing field so that, for example, a 52-year-old woman can score higher than a 38-year-old man even though he runs a faster time.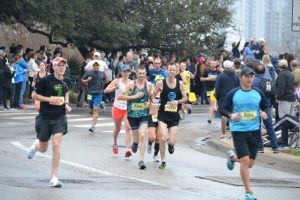 BOULDER CORPORATE RELAYS
Colorado School of Mines,
Golden CO, August 3 – 4, 2019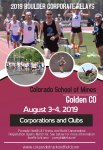 Organized by the Corporate Running Association (CRA)
Contact jovejoli@telus.net
Corporations; Division I – 10,000 or more employees & Division II – fewer than 10,000 employees.
Running and Track Clubs.
Individuals (athletes pool to be added to Division II Corporate Teams).
5K and 10K road races. Scored by five year age groups. Unlimited number of participants can run for each team.
Relays on the track with multiple ages from open to 60+, men and women (Masters Relay, Seniors Relay, etc.)
Individual 200m age group races.
Men's Mile Team Race (requires only two runners).
Women's 800m Team Race (requires only two runners).
Age graded field events, HJ, LJ, SP, and Discus.
You only need one or two athletes to participate in certain events, you don't need a full team.
Individual entry fee is $30 up to four events.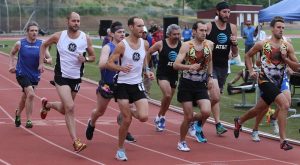 See Corporate Running Association for more Corporate Events across the US!