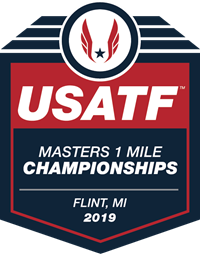 On Friday evening, August 23rd, the HAP Crim Festival of Races and it's Michigan Mile will host the 2019 USATF Masters Mile Championships on the roads of Flint, Michigan. Experience the spirit of Masters running at its best, with Men cheering on the Women's race and then Women cheering on the Men's race. Enjoy the festival atmosphere as the Masters Championships are followed by the Open Mile and the Young Runners (12 and under) Mile. Finish it off with a beverage and eats on a delightful summer evening in one of the most welcoming and resilient cities in American, Flint, Michigan!
Got speed to burn? This is the place to try for an age division record. With a USATF sanctioned event, and a certified and record eligible course, any American record established here will be verifiable. Last year was the year of the women, as Doreen McCoubrie, Jeannie Rice, and Tami Graf established American Records in W55, W70, and W80. In 2017, Kevin Castille, Todd Straka, Nat Larson, Tom Dever, Harold Nolan, and Doug Goodhue established, or tied, records in every division from M45 through M75.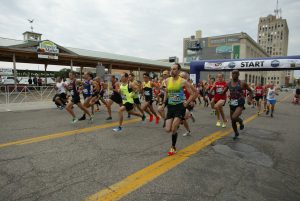 Entries are running ahead of last year-join the throng!
Entry Form is here.
Want more information? Here.