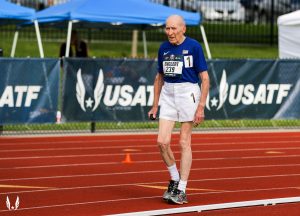 World and American records highlight day one at USATF Masters Championships
Ames, IA — Masters athletes set three age-group world records and one American record during the first day of competition at the USATF Masters Outdoor Championships on the campus of Iowa State University. The world's best athletes ranging from 30 to 96 years of age are among the more than 900 athletes competing at ISU's Cyclone Sports Complex this week.
Full results can be found here.
96-year-old Roy Englert (Potomac Valley Track Club), who holds age group world records in the 800m and 1500m, clocked a new 5000m world record (pending) in the 95-99 age group in 42:30.23. Roy demolished Frank Levine's 2009 record of 50:10.56.
In the mens 80-84 pentathlon, Sherwood Sagedahl (Unattached) set a new age group world record (pending) with 3,787 points. He won all five events – long jump (3.19m/10-5.75), javelin (23.81m/78-1), 200m (33.86), discus (24.10m/79-1), 1500m (6:20.17). Sagedahl, the pentathlon world record holder in the 70-74 and 75-79 age groups broke Poland's Kazimierz Bulczynski's 2010 record of 3,646 points.
Neringa Jakstiene (Unattached), returned to the masters circuit after a dominant indoor season in which she set five age group world records and won six medals (four gold) at the World Masters Indoor Championships in Torun, Poland. Jakstiene set yet another world record winning the women's 55-59 age group with 4,594 points breaking Phil Raschker's record of 4,511 set in 2002. She dominated the competition winning all five events – 80m hurdles (12.86), high jump (1.42m/4-7.75), shot put (9.13m/29-11.5), long jump (4.89m/16-0.5) and 800m (2:59.06).
The 2018 USATF Masters outdoor champion in the 65-69 discus, hammer throw and weight throw, Mary Hartzler (Unattached) set a new American record hammer throw in the women's 70-74 with a throw of 32.35m/106-1, more than 15 meters ahead of the second place finisher. Hartzler threw over 30m on five of her six attempts with winning heave on her fourth toss.
Michael Janusey (Unattached), the 45-49 American record holder in the pentathlon, won the men's 60-64 Pentathlon with 3,613 points. He won the long jump (4.74,/15-675), javelin (48.48m/159-0), 200m (28.88) and discus throw (44.53m/146-1) and finished second in the 1500m (6.29.51). Janusey finished just 182 points behind the American record and 941 points ahead of second place finisher Kevin McGovern (2,672 points) who dominated the 1500m with a time of 5:31.79.
The meet continues Friday through Sunday and is open to the public and is available live on USATF.TV+.
Broadcast Schedule (Subject to change):
7/12     8:00am CT
7/13     7:45am CT
7/14     8:00am CT
Click here for the event schedule and here for the status of entries.