Events are underway at Toronto Track and Field Center
532 USATF Masters are competing in Toronto, Canada July 18th to the 21st at the 2019 NCCWMA Regional Championships.
1104 athletes are present from 34 countries, one has come all the way from New Zealand to participate in this regional championships.  The US participants include 17 USATF Hall of Fame members,  multiple world record holders, and 86 2018 US outdoor national champions. This event is also a forerunner of the 2020 WMA world championships also being held in Toronto next summer details here: http://wmatoronto2020.com/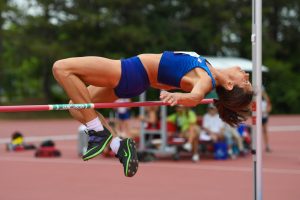 Day one started off with Myrle Mensey, 70, throwing the hammer 38.63m for a new women's 70-74 world record. Neringa Jaksteine, 55, today broke her own pending World Record in the W55 Pentathlon which she set last week in Ames at the USATF Masters Outdoor Championships. The currently listed WR is 4511 set by Phil Raschker in Orono in 2002. In Ames, Neringa scored 4594 points. Today, in Toronto, she scored 4735.
Tomorrow, the 2000m and 3000m steeplechase is in the morning, followed by the 800m finals, 100m prelims, short hurdles and the finals of the 400M in the afternoon. Come out to the Toronto Track and Field Center and catch the action or check the live results at the link below.
Follow all the results live here: https://tinyurl.com/y6kjtfbl
Find the schedule, location and more here: https://nccwma2019.com/
Photos by Rob D'Avellar and Dave Albo