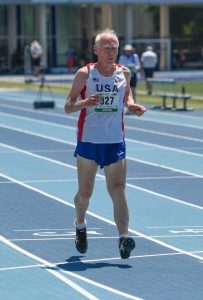 The North and Central America and Caribbean World Masters Athletics Championships wrapped up Sunday after four days of Track and Field, Road Races, Race Walking and Cross-Country events in Toronto, Canada.
Toronto, CA -Out of 1104 athletes from 34 countries competing, the most decorated competitors were the USATF Masters Athletes Bill Yankovich (M85, Racine, Wisconsin) who won 9 individual gold medals, Irene Obera (W85, Fremont, CA), with six individual gold medals, and Roger Vergin (M81, The Villages, FL), with five golds and five silvers.
Bakhshish Dhillon of Canada, M81, tied with fellow Canadian Yuko Nakano, with each winning five golds and one silver. The most decorated athlete at the meet from outside the US or Canada was 81-year-old Oswald Rogers of Trinidad and Tobago, who won five Gold Medals.
USATF Masters Athlete Myrle Mensey (W70, St. Louis, MO) set two World Records (pending) one in the hammer throw, with a throw of 38.63m and the other in the throws pentathlon amassing a point total of 4799.  Mary Hartzler (W71, Gahanna, OH), also broke the recognized record in that event in finishing in silver medal position.
Pole vaulter Stephanie Colby (W41, Pikesville, MD), broke the American Record in the W40 Outdoor Pole Vault with a mark of 3.50 meters.
Gunnar Linde (M91, Santa Monica, CA) set a World Record (pending) in the grueling M90 2000-meter steeplechase with a time of 15:47.32, shaving more than 3 minutes off the existing WR of 18:54.10.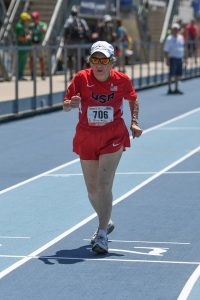 Neringa Jaksteine (W55, Memphis, TN) broke her own pending World Record in the W55 pentathlon that she set at the Outdoor Championships in Ames, Iowa a week earlier. The currently listed WR is 4511 set by Hall of Famer Phil Raschker in the USATF Masters Championships in Orono, ME in 2002. In Ames, Neringa scored 4594 points; in Toronto, she upped the record to 4735.
Shirley Dietderich (W92, Berkeley, CA) was the oldest competitor in the 100m, winning gold in 51.13.
Multiple USATF Masters athletes swept their age group in the sprints, including Dedrick Clark (M40, Brookhaven, MS) who won the 100m in 11.22, the 200m in 23.35, and the 400m in 53.79. Also achieving this feat was Cynthia McNamee (W43, Inglewood, CA) with time of 12.52 in the 100m, 25.99 in the 200m, and 60.05 in the 400. The seemingly ageless Rose Green (W81, Upper Marlboro, MD) also swept all three running the 100m in 17.45, the 200m in 38.94, and the 400m in 1:45.45.
Team USATF Masters, with 532 athletes entered, won 334 gold, 210 silver, and 174 bronze individual medals.  Team Canada Masters, with 350 athletes entered, won 99 gold, 109 silver, and 96 bronze medals.  Team Mexico Masters, with 93 entries, won 17 gold, 37 silver, and 31 bronze medals.
.