Many meet records set on day three of NCCWMA
Seven 100M finals times today exceeded the meet records but had wind speeds as high as 3.4, the wind must be 2.0 meters per second or below for a record. There were some 100M meet records set while the wind stayed calm. In the women's 50 age group  Monalisa Rivera, 51, from Puerto Rico ran 13.20 to set a new meet record. Cynthia McNamee, 43,  ran 12.52 for gold, and LaTisha Moulds, 41, ran 12.73 for silver both breaking the existing W40 meet record of 12.91. Easter Grant, 36, ran 12.46 breaking the W35 meet record of 12.53. For the men, Tony Fulton, 60, broke the meet record for M60 with a 12.47 100M.
The discus was on fire today! Carol Finsrud, 62, smashed the W60 meet record of 24.53M with a throw of 37.65!  Angela Herzner, 44, broke her age group meet record with a throw of 37.38M and Elizabeth Teague, 45, did the same with a toss of 37.31M. Mary Hartzler, 70, tossed a 24.96m, and Elsbeth Padia, 81, threw for 20.59M both to set new age group discus meet records.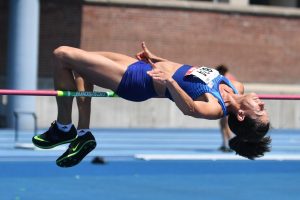 In the high jump, Kathy Bergen, 79, jumped 1.14M for a meet record. Neringa Jakstiene, 55, set a new meet record with a leap of 1.40M. Rita Hanscom, 65, jumped for gold at 1.26M and Kay Glynn, 66, jumped 1.20M for silver, both exceeding the meet record of 1.10M.
In the M45 hammer throw, Eric Cole, 49, threw a 54.99M for gold and a new meet record, and James Cale, 37, tossed 45.92M, to break the meet record of 45.44M.
Tomorrow we wrap up with the 5k racewalk, some cross country action, the 1500M and the 200M, and the relays.
See all the results here: https://tinyurl.com/y6kjtfbl
Photos will be shared here over the next few days.