Back to back world records for Myrle Mensey highlights day two!
Toronto, Canada — USATF Masters athletes set three age-group world records and one American record during the second day of competition at the NCCWMA Regional Championships.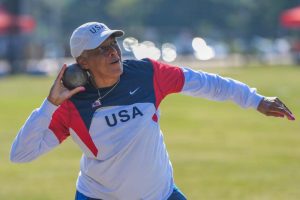 On day two of the NCCWMA Regional Championships, Myrle Mensey, 70, continued her phenomenal performance. After setting a World Record (pending) yesterday in the Hammer Throw, she set another World Record (pending) today in the W70 Throws Pentathlon amassing a point total of 4799. The listed WR is 4418. Mary Hartzler, 70, winning Silver, also exceeded the existing WR with a point total of 4582.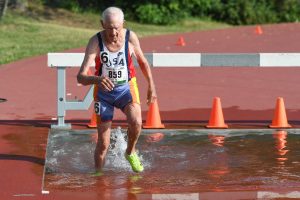 Gunnar Linde, age 91, set a World Record (pending) this morning in the grueling M90 2000-meter Steeplechase with a time of 15:47.32. He shaved more than 3 minutes off the existing WR of 18:54.10.
Multiple world and American record holder Derek Pye, set a new world record (pending) in the M50 100M Hurdles with a run of 13.43, the current record is 13.57.
Pole Vault coach and athlete, Stephanie Colby, 41, set the American Record in the W40 Outdoor Pole Vault this afternoon with this vault of 3.50 meters.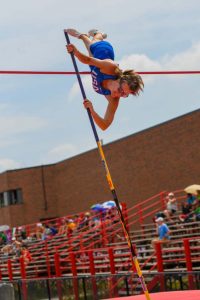 Full results can be found https://tinyurl.com/y6kjtfbl
The meet continues Saturday and Sunday and is open to the public at Varsity Stadium in Toronto.
More information on USATF Masters athletes and stats available here: https://tinyurl.com/y2c6t7je