"Keep yourself in good shape if you can. Have many passions. And look for magic moments. That is something that I have done in my life — think of the things that are magic moments that happen to you, like sunsets and sunrises, rainbows, beautiful birds, music and people's lovely comments to you. All of those are magic moments and they are free for all. Be sure to keep your eye open for them."

~ Julia Hawkins at 103 urs old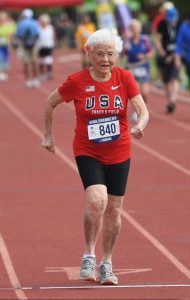 Julia Hawkins continued to amazing and delight people from around the world as she ran the 50M and 100M sprints at the National Senior Games in Albuquerque, NM early June. Back in 2017, she set the indoor 60m (24.79) and 2018 outdoor 100M (39.62) world records for W100-104!
She has also written a book "It's Been Wonderous: The Memoirs of Julia Welles Hawkins"
News Coverage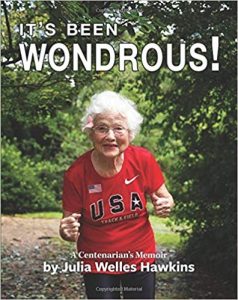 Please follow and like us: