Individual Perspectives About Masters Running
Followed By Utzschneider's Coaching Nuggets 
Welcome to the REFRESH series. We've run, we're running  – We've read (and read) about running  – What's new?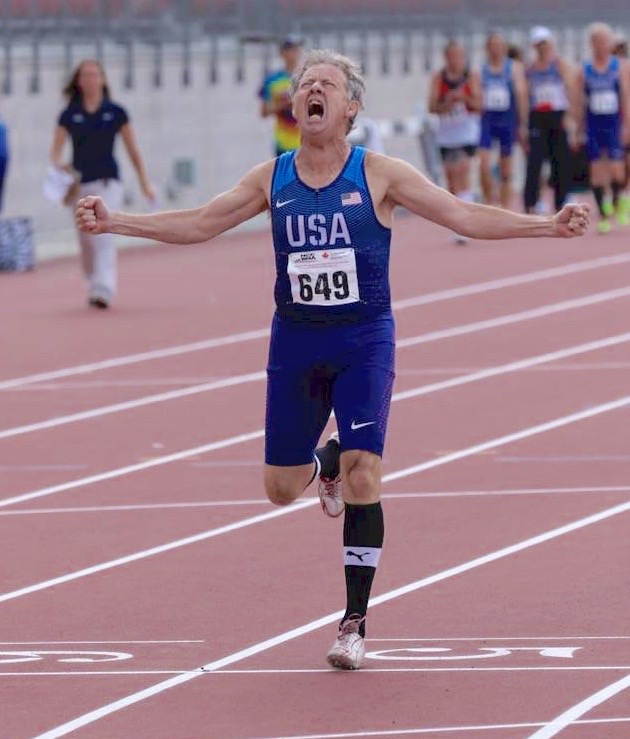 Perspective #2
Intensity of Effort in Training is Everything
Athlete: Roger Pierce 74
Starting Running: 39. Started competing: 39
Distances Raced: 55m to 400m
Achievement Highlights: 15 Time World Champion: 400m, 4 x 100m, 4 x 200m, 4 x 400m
11 World Records: 200m, Multiple Relays
USATF Masters Hall of Fame 2008
Peak Training Through Age 72
4 days a week, intensive sprint intervals/short recovery over total distance of 1200m per session.
Peak Training Today:
3 days a week of 2 sets of 400m, broken into race pace segments with short recovery.
New Perspective: Intensity of effort in training is everything. Total workout needs to be tougher than my competitive races.
How Do You Do It?
I role play races in my mind in training, and remind myself that few human beings are capable of what I am doing at my age.
Cathy Utzschneider's Coaching Nugget
More recovery with aging. Visualization. Gratitude.
They're key to performance over the long haul and also for perspective. We need more recovery as we age. Visualization (3-minute visualizations are powerful) prepares us for optimal performances while anticipating and overcoming possible obstacles. And being mindful that masters track and field competition is a gift helps us appreciate what we can do. Coaches and Division I athletes in my Boston College high-performance classes have noted that focusing on gratitude improves their ability to focus on training. The students practice gratitude by journaling, writing a letter, or by taking walks or reflecting on gratitude.