Both Jerry and Christel have been World champions, American champions, and World and American record holders. It is our great pleasure to award them co-recipients of the David Pain Distinguished Service Award!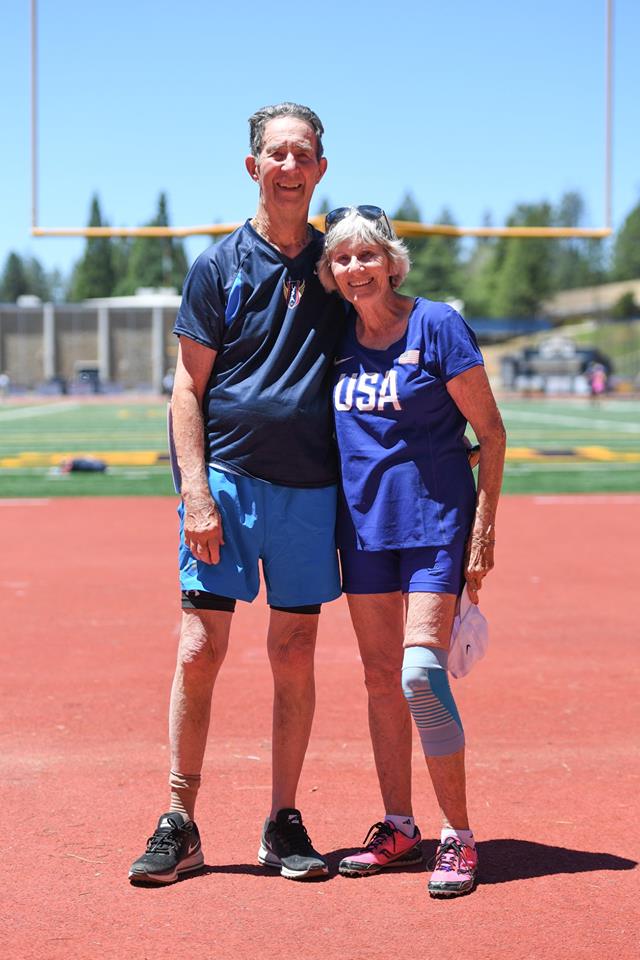 Jerry Donley has been involved in Masters Track & Field since the mid-1970's and during this period he has participated as an athlete and served as an administrator, meet director, official, coach & volunteer. He served as the Colorado Masters Chair from 1975 to 1982 and from 1988 to present, serving for over 37 years. Jerry was the Chair of USATF Masters Track & Field from 1982 – 1989 and later served on the USATF Board of Directors. He received the Presidents Award in 1984 as the Administrator of the Year and Co-Chaired with Christel the Mid America Region from 2005– 2018. Jerry's claim to fame is that he competed in the inaugural World Masters Championship in 1975 in Toronto. Jerry is one of only two athletes from the USA who competed in that championship who are still competing today. Jerry founded the "Above the Bar" pole vault club in the 1990s which is still ongoing for Youth, Open and Masters athletes.
Christel Donley started her Masters career in 1977 in Goteborg, Sweden. In 1981 she became the meet director for the Pasadena Senior Olympics, a position she held for 26 years. Christel became the Women's Coordinator for Masters Track & Field in 1982 and served in that position until Barbara Kousky became the MTF Chair. Prior to serving as the Mid America Co-Chair, Christel served as the Southern California Masters Chair. She was also an interpreter during the 1984 Los Angeles Olympics. Like Jerry, Christel has participated as an athlete and served as an administrator, meet director, official, coach & volunteer. On numerous occasions, Christel competed as an athlete, changed her uniform, and then officiated at the same track meet! She is always helpful and always friendly.
Jerry and Christel have recently retired from their positions as the Mid America Region Co-Coordinators after 30+ years of service to the Masters Track & Field Community. We wish them all the best and look forward to seeing them on the track and field for years to come!