Individual Perspectives About Masters Running
Followed By Utzschneider's Coaching Nuggets 
Welcome to the REFRESH series. We've run, we're running  – We've read (and read) about running  – What's new?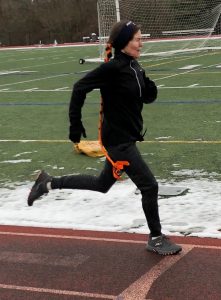 We still love running and continue to learn perspectives that fuel motivation and performance.
This series invites you to share your new insights about track and field. To share, please reach out (catharinevk@gmail.com).
Perspective #1
Quality of Effort Matters More Than The Time
Athlete: Sue Gustafson, 72
Started running: 40. Started competing: 45
Distances raced: 800 to marathon
Achievement Highlights:
Running 12 marathons; winning her age division in the Boston Marathon; 3:06:09 at age 54 in the Boston Marathon.
Peak Training: in her 50s – 50 – 60 miles/week in six days a week with: four 8 mile runs, one day of track, one long run of 16 miles (or 20 miles in marathon training)
Peak Training today: 30 miles/week in five days a week with: one long run of 10 miles.
New perspective: Quality of Effort Matters More Than The Times
"I've come to value pushing myself to the limit and believing I can do it. Pushing myself and believing means more than the time because you can't keep the times as you get older."
How do you do that? "When you get to the dark place – when you reach the limit, know that this is what you've been training for."
Cathy Utzschneider's Coaching Nugget
Speed work based on perceived exertion is powerful. (Age-group track championships have been won with speed work focused only on perceived exertion off the track.) If you're wedded to the watch but feel it's pressuring you, turn off your Garmin or get off the track and run
seconds or minutes of speed at perceived exertions for the amount of time you'd run the distance on the track – and add 5 to 10 seconds,
depending on the distance.
As an example, if you generally run a half mile on the track in 2:50 at a hard perceived exertion, run 3:00 off the track at a hard perceived
exertion.
For information about perceived exertion see: https://www.utzschneiderrunning.com/perceived-exertion-easy-and-powerful.html