PURPOSE

The MTF Inclusion Subcommittee seeks to establish and maintain an inclusive culture that fosters equitable participation for athletes, officials, volunteers and spectators.

To empower athletic development, competition, fitness, friendship, sportsmanship and volunteerism; the Inclusion Subcommittee will provide or enable education and advocate for USATF Masters policies which sustain foundations of a diverse and inclusive culture across all dimensions including, but not limited to, age, race, sex, gender, gender expression, class, geographical location, national origin, educational background, marital status, parental status, disability, income, sexual orientation, creed and all levels of athletic ability.
COMMITTEE MEMBERS – George Melichar, Chair
Rex Harvey
Sandy Lee Triolo
Jerry Booken-Weiner
Sue Hallen
Latashia Key
Andy Hermann
Tracu Simdom
COMMITTEE ADVISORS
ANNUAL REPORTS
MINUTES
COMMITTEE ACTIVATION
2018 INDOOR NATIONALS FIRST TIME INFORMATION
The Important Information for First Time Athletes participation packet insert was a collaboration between the Potomac Valley Track Club & the USATF Masters Inclusion Subcommittee and used at the 2018 USATF Masters Indoor National Championships.
COMMITTEE VIBE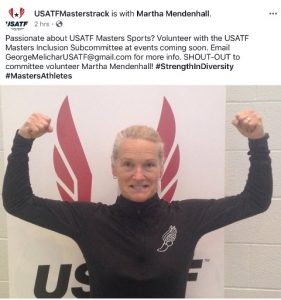 26 March 2018 (Facebook)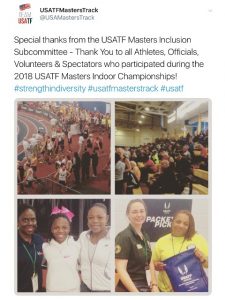 19 March 2018 (Facebook, Twitter & Instagram)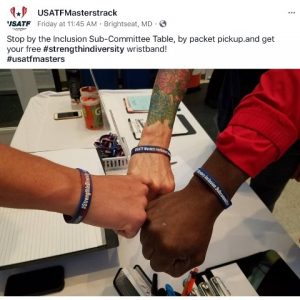 16 March 2018 (Facebook & Twitter)